The upcoming CHRISTIAN ARTISTS SIMINAR
Thanks to the great interest of top-artists, teachers and speakers to contribute to the upcoming Christian Artists Siminar (July 29 – August 2), CA 2018 will bring a great programme! There will be great contributions too of young top-talents. Do not miss this unique event! 15% DISCOUNT till may…. !!!!Confirmed artists/teachers/speakers: Marijke Bolt (sculpture,NL), Esther Hannah Burger- Hucks (piano, Germany), Didi Companjen (worship,NL), Hannah Clair (vocal class, France), Didi Companjen (worship, NL), Noiie Daval ( fine arts, France), Jan Willi van Delft (piano, NL), Gerdien van Delft-Rebel ( fine arts, NL), Wiebe van Dingen (fine arts, NL), Paul Donders (speaker, NL), Klaus Andre Eickhoff (singer-songwriter, Germany), Paul van der Feen(musician, Nl), Jill Ford (theatre, Uk), Torsten Harder (musician, Germany), Werner Hucks (musician, Germany), Marta Jakobovits(clay-3D, Romania), Birgit Juch & AVIV dance company (dance, Nl), Tobias Kerkhoven (E-guitar machinist, Nl), Natael Kerkhoven (MC and singer, Nl), Chesron Ledes (CA-gospel choir, NL), Dr.Lasma Dobele Licite(lector, Latvia), Teddy Liho (presentation skills, Bulgaria), Aron de Lijster (basguitar, Nl), Arend Maatkamp (graffitti art, computerwork, Nl), Maria Markesini (singer, Greece), Corentin Martinez(drums, France), Talitha Nawijn (vocal coach, Nl), Thomas Nöttling (piano, Austria), Jeanine Noyes (singer-songwriter, Canada), Nikos Papadogiorgos (composer, Greece), Angelique Petit (mime, France), Arthur Pirenne (clowning, Nl),Jan Willi Plutschouw(clown, Nl), Dr.Evert van de Poll (speaker, France), Reijer (singer-songwriter, NL), Rivelino Rigters (urban music, Nl), Leen & Ria La Rivière (speakers, Nl), Jonathan Romppel (keyboards, Germany-USA), Prof.Ward Roofthooft (lector, Belgium), Alexandra Smith (speaker and storytelling, Nl), Peter S.Smith (drawing, Uk), Thea Soltau (performing arts, acting, Uk), Vicky Stanley (theatre, UK), Dr.Geoffrey Stevenson (lector communication, UK), Judith Stevenson (writing, UK), Renske van Twillert (printmaking, Nl), Damaris Veenman-Verduijn ( dance, Spain), Jenny Verplanke(painting, Belgium), Heike Wetzel (flute, Germany), Paul Yates (photography, Germany), Elly Zuiderveld (singer-coach, Nl)… And participation of 12 special young top talents: Maryam Al-Baghdadi (CH), Dywel Braaf (Nl), Michel Crier (Germany), Dorottya Csokasi (Hungary), imely Hansen (Nl), Jonathan Harder (Germany), DJ Flubbel (Nl), Sjoukje Minkia (Nl), Simone Naomi Pansa (Nl), Jolina Raible (Germany), iely Sewerinow (Germany), Viktor Sewerinow (Germany), Maria Viftrup Cramer (Denmark). Siminar language is English, all plenums will be translated into FRENCH and GERMAN.
CONTINENTAL MINISTRIES ROMANIA
celebrated 20 years anniversary
On Saturday March 3, 2018 Continental Ministries Romania celebrated their 20 years anniversary in a packed theatre in Cluj-Napoca, Romania. A great programm was presented and many Continentals from over the years were present. Leen La Rivière and Marinus den Harder (from the European umbrella organization) were present and presented a special award to executive director Iosif Catuna for the great achievements of Continentals Romania. Special guests were Cam Floria and Jim Schmidt from Continentals USA. Romania tours visit Romanian churches all over Europe and the USA.
CONTINENTALS SLOVAKIA
celebrated 20 years anniversary
On november 25, 2017 Continentals Slovakia celebrated their 20 years anniversary in the sold out musical theatre of Bratislawa, Slovakia. Leen and Ria La Rivière (from the European umbrella organization) were present and gave a special award to executive director Iveta Viskupova-Weiss for her incredible leadership over all those years. Performing were: Continental Kids, Young Continentals, the Sloval Continentals and the New Hope Singers.
2017
A new CD of THE CONTINENTALS: A CAPPELLA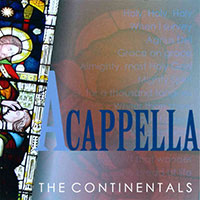 Finally, it has been released. There was some delay as the producer Leen La Rivière was ill. It is a unique production.: a collection of all the A Cappella Songs the Continentals ever did (from the beginning in 1965 till today). And the result is incredible: a great production. Everybody will enjoy listening to it. When you close your eyes, you feel yourself in one of Europe's great cathedrals, the sunlight come through the stainglass windows. You are there with a lot of people and you listen to these breathtaken compositions. And so it happened in real time in the great cathedrals of Poland in the eighties… The CD has 13 songs:
Holy, Holy, Holy (original Helig, helig). Text + Music: Ingemar Olsson.
When I survey. Text: Isaac Watts; Music: Hugh Wilson. Arr.: Cam Floria.
Agnus Dei. Text + Music: M.W.Smith.
Grace on grace. Text + Music: Don Francisco. ©Crack O'Noon music/Small Stone Media
Almighty, most Holy God. Text + Music: Wayne Watson.
Mighty Spirit. Text + Music: J.Olds.
O, for a thousand tongues. Text + Music: Bonnie Deuschle.
Whiter than snow. Text + Music: Nicholson/PD; Arr. Ralph Carmichael.
A quiet place. Text + Music: Ralph Carmichael.
What a friend we have in Jesus. Text + Music: Charles Converse. Arr. Cam Floria.
Deep River. Text + Music: PD; Arr. Kurt Kaiser.
Wasn't that wonder. Text + Music: PD; arr.Barker.
Break Thou the bread of life. Text + Music: Sherwin; arr. Cam Floria.
The most recent song is number one, the oldest song is number 13. With great care were the old recordings digitalised and edited. This all happened in the Groovity Studio in Amersfoort by Wilkin de Vlieger. A SONGBOOK is available of this CD. Price: CD 10 Euro, Songbook 10 Euro. You can order via Continental Sound: (via info@continentalministries.org) plus shipping costs. This is a unique masterpiece and a tremendous blessing. Labelnumber: Free 3119.
2015
Looking back and looking forward
per 31 december 2015
This last year was busy to handle the bankruptcy of Continentals.NL. It could have been avoided if that board and director would have accepted offered help. This sad news was like a bomb in the lives of so many who have toured. But the good news is that the European network of Continentals still exist and groups in other parts of Europe are doing extremely well. We all enjoy Gods blessings. With joy the new CD's could be launched. The CD of Continentals got even the award for best album!!!. Another activity bringing lots of blessings was the Christian Artists Seminar where we discussed how we can fight the growing unemployment in the arts/culture. Outcome is that whatever circumstances may be, we HAVE a biblical cultural mandate and we should always keep developing our gifts, as both will bring glory to God and i twill have meaning in society. DONATIONS are important to keep the Ministry of Continental Sound/Christian Artists going. Donations are welcome on: ING NL03INGB0002252888 (BIC: INGBNL2A) of Stichting Continental Sound. Only with your help and support (prayers and donations) we can realise the plans for 2016: bringing out new programs for Continentals, Young Continentals and Continental Kids, the new International Christian Artists Seminar (July 30 – august 5) and that will be a jubilee: the 35th time. At this CA will happen a special program for youth. More on www.christianartists.org. So please continue to support us!
With the best wishes for 2016,
Leen & Ria La Rivière
SILVER DOVE AWARD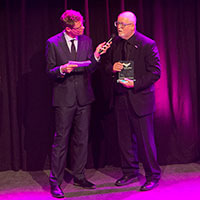 On november 12, the new album 'Worship the great I AM' of the Continentals received a Silver Dove AWARD from the christian music industry of The Netherlands in the category best album groups and choirs. The producer of this album was Leen La Rivière.
On the picture Leen receives the award from a member of the jury.
NOMINATIONS
On August 31 the news was released that the new album of THE CONTINENTALS: Worship the great I AM has been nominated for the silver dove award in the category best album choirs/groups. And the new album of the CONTINENTAL KIDS: Op weg met die grote God is Licht en leven has been nominated in the category best album childrens music. Producer of both CD's: Leen La Riviere.The awards are given by the christian music and media industry of the Netherlands, more on www.zilverenduif.nl. The winners are celebrated in a mass event on nov.12.
2014 - 2013
CONTINENTALS.NL (HOLLAND) bankrupt,
but Continentals remain to exist
Continental Ministries Europe received a note from the board of Continentals.nl (leadership Rob de Jong) that they have filed for bankruptcy. Incoming money dropted so much over the last year that salaries, rent and other costs no longer were able to pay, so debts were piling up. CME regrets this situation very much.
This situation has no effect on the other Continental organizations, their ministries move on. These organizations are: Continental Ministries Europe, Continental Sound, Continentals Slowakia, Continentals Hungary, Continentals Romania.
All rights to use names (The Continentals, Continental Singers, Young Continentals, Continental Kids), logo's concepts return automaticly to the European owners: CME/Continental Sound.
When the court has decided CME will move forward for a new start with Continentals in Western Europe.
Leen La Rivière, chairman
www.continentalministries.org
www.continentalsound.org
+31 6 51384805
DOVE AWARDS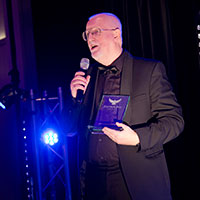 Thursday nov.13,2014 we had the national Zilveren Duif Awards (Dove Awards) in the Netherlands. This gala-ceremony-concerts is life on radio and on life-stream TV. These awards are given each year to the best album, best song, best new talent, etc. This happening is organised by the cooperation of radio, TV, publishers, records companies, music organizations, bookshops , copyright organizations, all with a christian identity. Here I had the remarkable experience that suddenly and unexpected I was called to the platform and to me was given the first ever Life Achievement Award of the Netherlands for my lifelong pioneer work in the world of music, arts and culture. I was totally speechless (and that gave big fun in the hall, as nobody has ever seen me totally surprised and searching for some words). The timing is perfect. This november I am 45 years professional in the arts, and before that 5 more years as semi-professional amateur.
Maybe nice to know.
I can write books full of stories about those 45 + 5 years. Anyway as you know, I have survived and stay active.
Soli Deo Gloria
Leen La Rivière
October 2013 - August 2014
What happened through this ministry:
1. Publications
Decided was not to publish any book this period. But we succeeded to get all lectures and concerts of the Christian Artists Seminar on the internet: Youtube.com/ChristianArtistsEU
2. Special visits
Leen was main speaker in Austria at the ArtCross arts conference and at the ADD artists conference in France. He was special guest at the Opwekkingsconference, EO-Youth Day, etc. Visits were made to the Continental offices in Romania, Hungary, Slovakia and Rotterdam. Visit was made to Adrian Snell: the launch of his new album (after 10 years). Continental Sound will work along with promoting and his copyrights. Leen was too in the jury of the Dove award Gospel awards
3. Special projects
The magazine SIGNS came to an end, as new magazine was launched the magazine Sjofar with the same editorial staff of Signs.
To and end came his chairmanship of the CNV Kunstenbond. But Leen remains to be chairman of the International Association of Christian Artists.
Unfortunately we got problems with the annual subsidy of the Christian Artists Seminar. Decided was NOT to do this seminar in 2014, but shift it to 2015, sothat all aspects have the time to be cleared.
Leen moved his offices out of the Continental Art Centre to his home.
The TV series 'gebedshuis van de week' was finished, 50 editions, were broadcasted and can all be seen on www.station-r.nl.
Launched was the website: www.christianartists-academy.org a help to find in your artform coaches, who can guide you in your professional career.
CONTINENTALS and
YOUNG CONTINENTALS
It is the 42nd (!) Continental summer season (1970 was the first tourseason). So, there will be several tours of the Continentals on the road in Europe with a great NEW program : MERCY MATTERS; and of course a new CD and songbook. Just visit one of their concerts, see: www.continentals.nl. And the Young Continentals will tour too in Europe with a great teenage ministry called: ALL POWER; and of course with a new CD and songbook. Just visit one of their concerts (and bring youth along), see: www.continentals.nl.
CONTINENTAL KIDS
5 Continental Kids groups are in training this summer. But all in dutch. From September they will do concerts each weekend. Booking for concerts starts now. They too have a great new program called: Speciale aanbieding. CD and songbook are available. More on: www.continentals.nl.
NEW PUBLICATIONS
Period June/July
Dutch: Finale, Bijbelse visie op muziek. This will be the 5th print(!)
Dutch: Kaf & Koren, total new edited version.
English: Creative Leadership (a very special studybook, based on 40 years of experience of Leen La Rivière).
Hungarian: Zene és Szolgátat, translation of Music & Ministry by Leen La Rivière.
NEW WEBSITES
Made possible by Continental Sound
www.christelijkekunst.org A special website promoting the professional members of the Christian trade union in the arts & culture: CNV Kunst en Cultuur. It has articles, visual arts, music, performing arts, choirs/bands, etc. A great help to find you are looking for, in the field of special projects, expositions, concerts, etc. etc.
www.nederlandstoonkunstenaarsregister.nl This website gives a special section of the members of CNV Kunst en Cultuur. These are all the members with official conservatorium diploma's. A great help if you look for a director, musician, singers, private teacher, etc.
www.auteursrechtkenniscentrum.nl This website explains you everything in the field of copyrights, performing rights, visual arts rights, neighbouring rights, music rights, author rights, etc.
CHRISTIAN ARTISTS SEMINAR
Happening soon, July 29- August 3
For the 32nd time this famous seminar will take place. And there is still the possibility to join. Great workshops in music (vocal, instruments, etc), visual arts (2D and 3D), performing arts (dance, theatre, mime etc), Media arts( writing, composing, films, internet, etc), talent avaluations, and so much more. Each night a spectacular concert. And key speakers show us the relevance of art & culture in the midst of the European crisis and purpose/meaning for Christians. Location: for the 2nd year: KSI, Bad Honnef (near Cologne/Köln), all info, subscription, etc, go to www.christianartists.org. So come and become motivated, inspired, challenged…
Short Film: http://youtu.be/KDTh8spScwc.
A longer film: http://vimeo.com/17783776.
FINANCIAL SUPPORT NEEDED
As we continue to support Continentals West Europe (operating from Rotterdam), Continentals Hungary (operating from Miskolc), Continental Romania (operating from Cluj-Napoca), Continentals Slovakia (operating from Bratislawa). Your financial help is needed to keep these great youth ministries going. Continental Sound is overseeing all these projects and pays research for the annual new programs, biblesyudies and such.
With the collaps of Continental Ministries USA more work and responsabilities is coming to Continental Sound to fill the gap. One of the needed steps is to launch a new website about 'Continental Ministries'.
We are digitalising ALL the old LP's of Continentals, New Hope, Wings of Light. More about this huge project soon.